buttered yams & cranberry sauce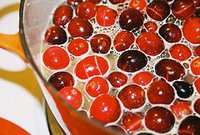 1 12 oz. pkg. fresh cranberries
orange juice
1/2 c. sugar

4 large yams
3/4 to 1 stick melted butter
1/4 c. brown sugar
1 tsp. cinnamon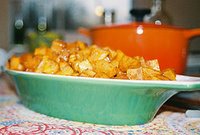 Peel & cut the yams & place in a baking pan. Mix melted butter, brown sugar, & cinnamon & drizzle over yams.
Bake at 375 for 30-40 minutes or until tender.

Meanwhile...
Place the berries in a saucepan, add enough orange juice to cover berries, & add sugar. Simmer until berries pop and become saucy. Reduce until thickened. Take off heat and they will thicken more.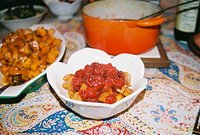 This recipe was created by the fine folks at Trader Joe's. It's so incredibly delicious, especially if you're someone who likes to pair tart flavors with sweet flavors. Share it with your loved ones this holiday season! (Or make it for yourself & eat the leftovers for 3 days.)